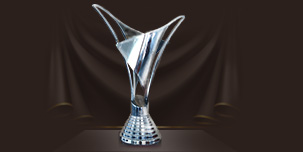 The Cup of the One
This trophy is crafted in the Mountains of Victory, out of metals obtained in a holy land that has never been conquered by an army. It symbolizes humanity's unwavering spirit and resolve in the face of adversity.

The Cup is 76 cm long, and it's made out of silver. The nation that becomes the new IO World Cup Champion will have its name engraved on a silver tile, at the base of the Cup of the One. Afterwards, the cup will be placed in a show case, in the IO Office's Hall of Fame.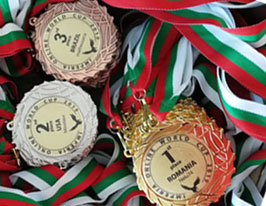 Mark of the Champion
All the members of the winning national team will receive this mark as a gift, courtesy of the Imperial Mint. The box, in which the Mark of the Champion is placed, is designed and hand-made by the greatest craftsmen in Imperia Online.

The Mark of the Champion is a gold-plated medal, 4 cm in diameter, placed in an exquisite red box. The words "World Champion 2019" are written at its top and bottom, with the victorious Imperial Eagle engraved in its center. The medal's ribbon will be colored with the host nation's flag colors – Bulgaria. It's a worthy reward for the best of the best - the Champions of Imperia Online.